1-Phuket Old Town & Night Market.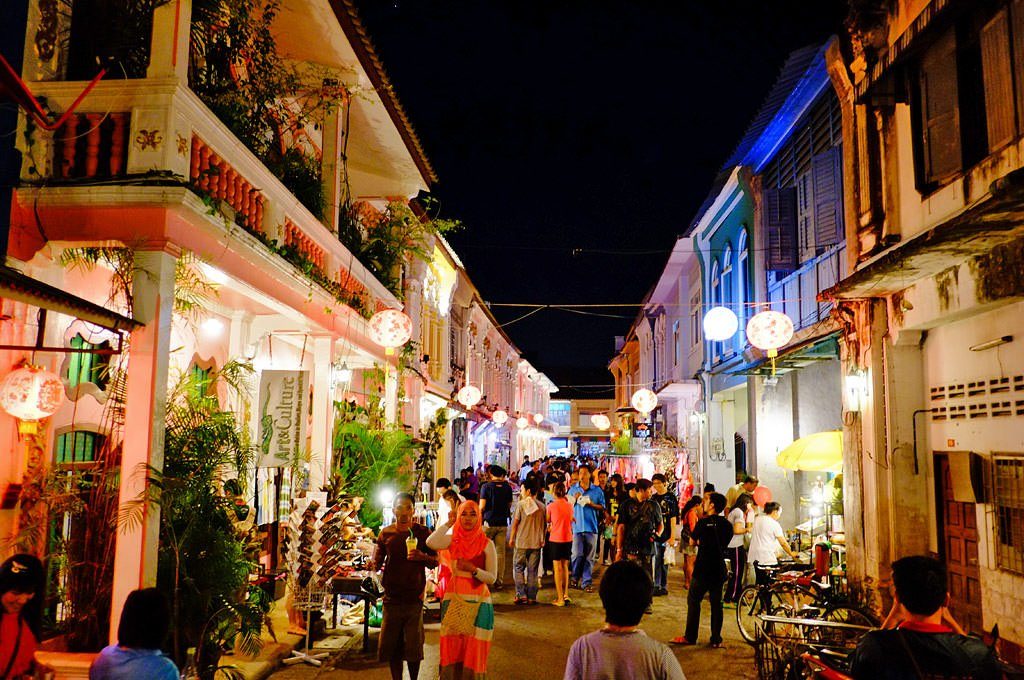 Phuket Old Town.
One of my favourite things to do in Phuket. Often dismissed, a walking tour of Phuket Old Town is a great trip back to the Sino-Portuguese past that once made Phuket the center of the tin mining industry in Thailand.
Today, there are lots of hipster cafes, restored colorful shophouses and shrines that are bringing back the glory of days gone by. Look up from the main road so you can admire the facade of the buildings. They are very reminiscent of Singapore's shophouses..
Here's a delicious foodie and a cultural self-guided tour of Phuket Old Town. Explore the flavors of Peranakan food or the beautiful architecture of Old Town with these excursions.
If you don't want to go it alone you can take part in an epic foodie tour of Old Town. Get to indulge in hidden secrets from a Burmese tea shop, to a mean bowl of Hokkien noodles to rich peanut satay. Can book this 4hr foodsploration. You can only take a guided tour of Phuket that stops by Old Town on this half-day Phuket highlights tour.
By day you can take this guided heritage tour with a local that will take you to many places. Chinpracha House and Thai Hua museum, and the old post office and first hotel in Phuket. By night savor Old Town's most amazing foods like Hokkien Mee noodles, Cumin Fried Fish or Crab Curry on this night tour of Old Town.
2-Racha island Trip.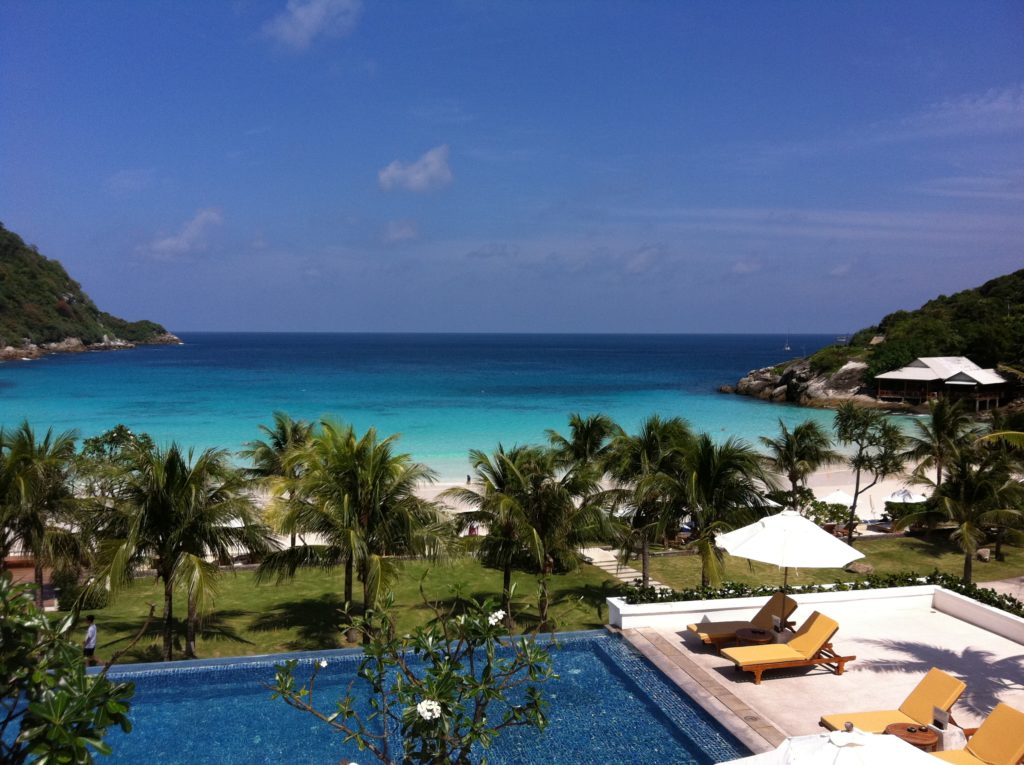 Kho Racha Island.
While this is one of the most iconic Phuket attractions, two other options for those who love exploring by boat are the more popular Phi Phi and the less frequented Racha.
The best way to go island hopping is to book a proper island hopping adventure online before you go. This ensures a hassle-free and convenient trip on a modern speedboat. Go Maya Bay and Koh Phi Phi to explore both these islands as well as several others including Monkey Island, Mosquito Island and Pileh Cove. Maya Island is where the Hollywood blockbuster, The Beach was filmed.
Considered as two of the most beautiful islands near Phuket, Racha (Raya) and Coral island, are filled with hidden coves, pristine white sand beaches as well as loads of water activities. So you can relax in the sand or head to the ocean for some parasailing or diving. I stayed at the The Racha, which is the luxury hotel on the island and it was pure bliss. There is also a bustling marine life for some epic snorkeling.
Or maybe you'd prefer partying the day away on the HYPE Luxury Boat Club with a cocktail in one hand and gourmet finger food in the other. It goes to multiple islands including Ko Hong, Ko Racha, Coral Island, or James Bond Island.
3. Karon Seaview Point.

Karon Viewpoint.
You are unlikely going to be alone here because this is an extremely popular Phuket attraction. Some of the bus tours stopping here. Either way Karon Viewpoint is popular for a reason (see image above for a visual explanation).
From above, you will be able to see the three beaches north of the viewpoint. Couples go there to sit on the benches and observe the view. It's a nice stopover if you are driving past and it gives you a bit of perspective on the island. After all, Phuket gets its name from the Malay word for hill (bukit) so there are a few places where you can enjoy the view from above.
4. Phang Nga Bay.
Amazing Phang Nga Bay.
One of the most typical activities in Phuket for a day trip is to visit Phang Nga Bay. There are lots of islands near Phuket and many possible stops along the way. You will almost surely stop at James Bond Island. The island made famous by "The Man with the Golden Gun" movie.
Can book a day trip that includes a visit to James Bond island, a kayak expedition among the limestone caves, as well as a pop in to the sacred Buddha Cave Temple at Wat Tham Suwanakhuha (lunch included). A faster option that is more beach oriented and on a speedboat instead of a traditional longtail boat.
5. Ka Jok See.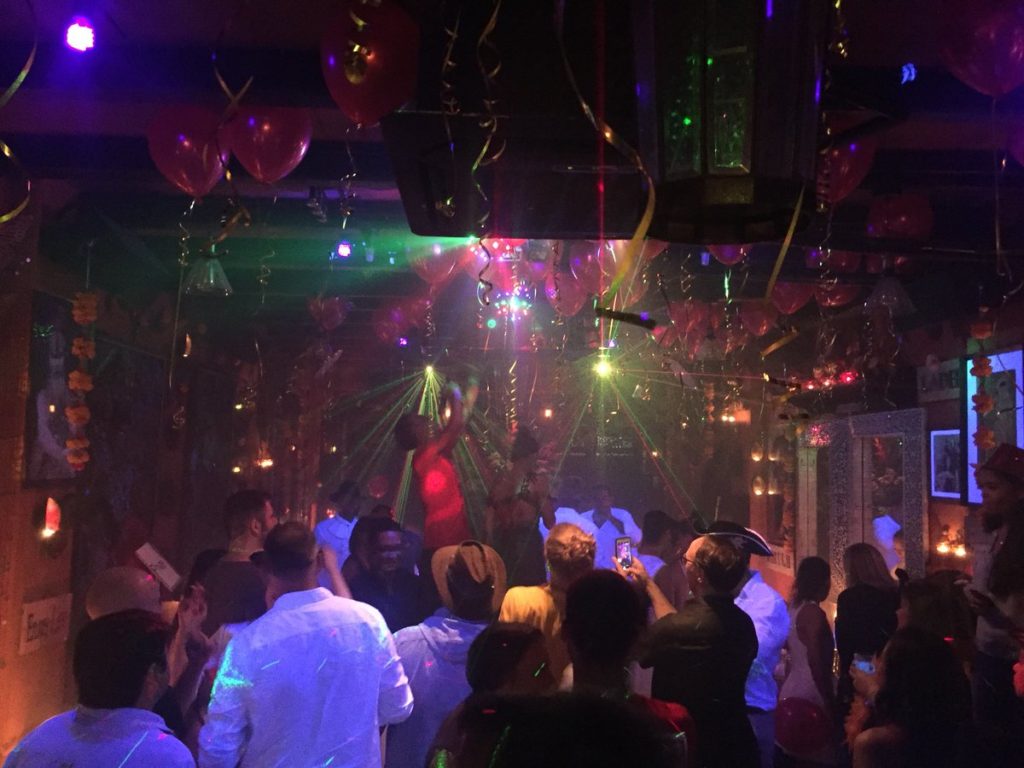 The Famous Ka Jok See Club.
Fun, crazy, exhilarating and liberating evening of good Thai food and entertainment. Thinking of going to some of the shows on Bangla Road, forget it, Ka Jok See is a much classier and much more fun alternative. May be you're wondering what to do in Phuket at night for unlimited fun, this should be your only option.
For the price of unlimited food and drinks you also get a cabaret show to go with it. But i don't want to spoil the surprise as a lot of the experience is based on not knowing what will happen, but it is sure to be a great evening.
Ka Jok See Club has no publicity, no website and their facebook page is empty and they wouldn't want to have it any other way. I have sent multiple groups of friends to Ka Jok See and they have all, without exception, had a fabulous unforgettable time.
To book you will have to call them as you can't just show up as they are always fully booked and it is a tiny place.
6. Phuket Fantasea Show.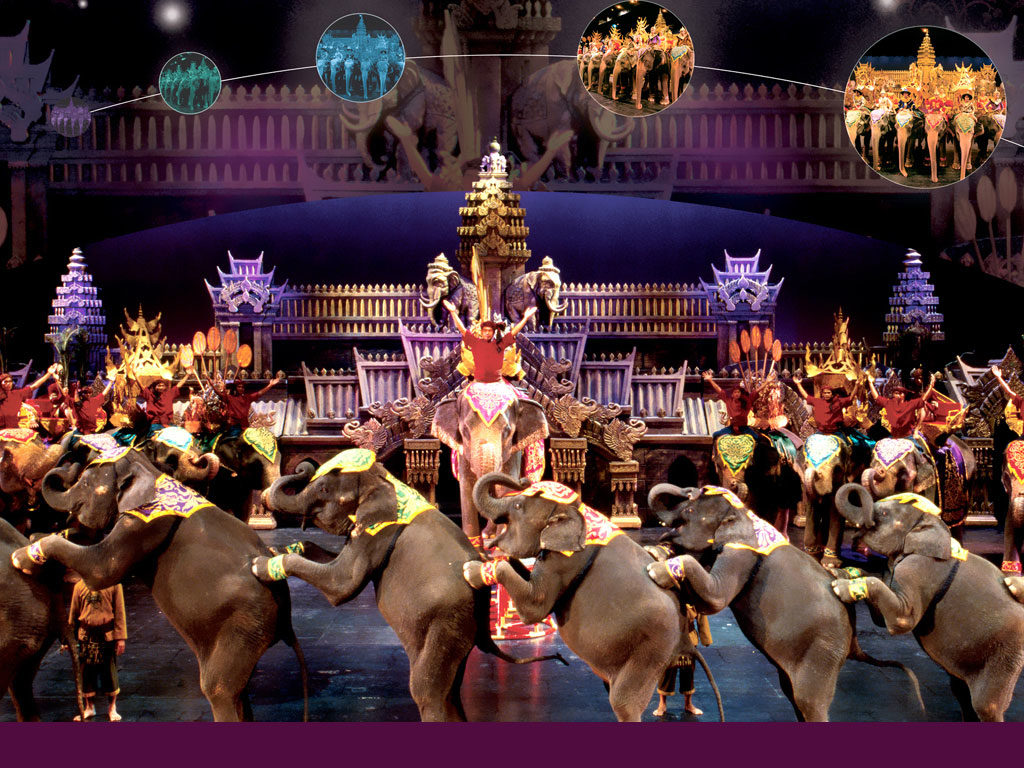 Fantasea show.
Described by the owners as a '140-acre cultural theme park'.
Phuket Fantasea has rapidly established itself as one of the most popular visitor attractions on Phuket island.
Built at a cost of over USD 100 million, the Fantasea venue at the northern end of Kamala Beach is home to an impressive 3,000-seat theatre and a huge 4,000-seat dining facility. It's fair to say that Phuket Fantasea is aimed primarily at tourists, but that shouldn't detract from what can still be a highly entertaining and memorable evening.
7. Freedom Beach.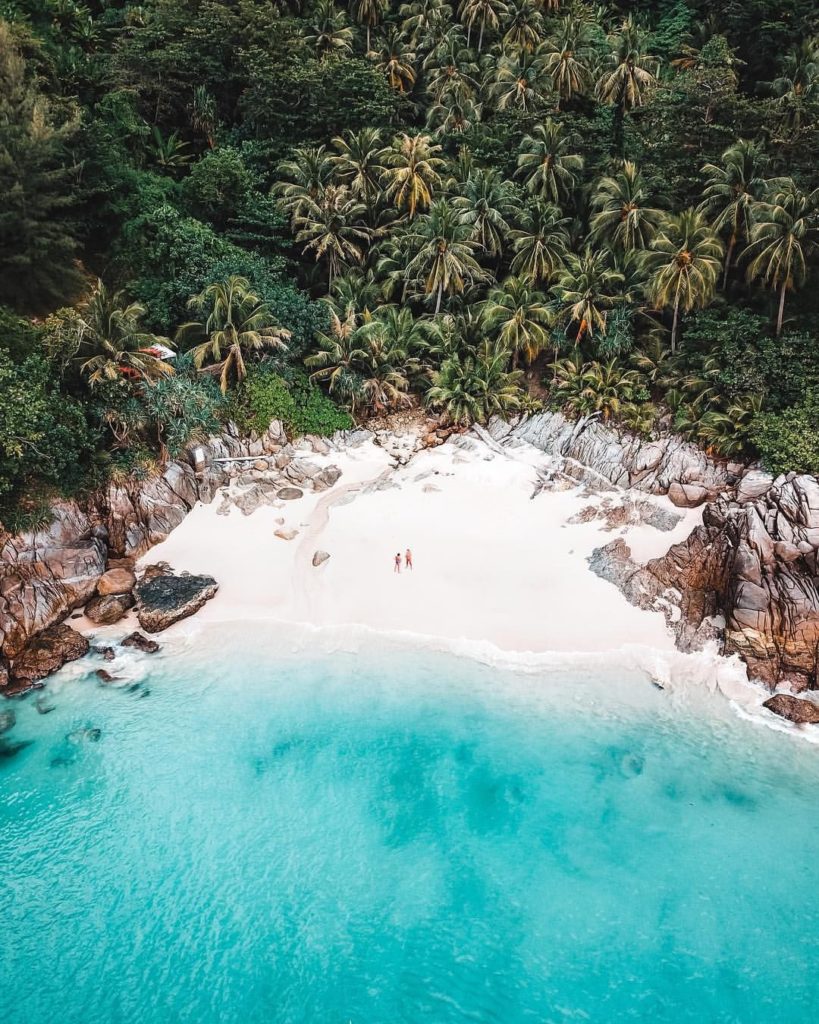 At Freedom Beach.
One of the most beautiful beaches in Phuket, with soft white sand and crystal clear water that is surrounded by lush green mountains.
An exclusive gem on Phuket's west coast; the 300m-long strip set in a superb bay dotted with granite rocks and surrounded by hills covered by thick and luxuriant jungle. Essentially, Freedom Beach's exclusivity comes from its rather difficult accessibility, although things are getting a bit better nowadays. Apart from sunbathing, popular activities that can be enjoyed at Freedom Beach are beach soccer, beach volleyball, and snorkelling.
Shallow waters at both ends of the beach host superb underwater fauna and flora and the southern end is slightly superior. There are no jet-skis or other noisy marine leisure activities at Freedom Beach; the only audible engines are those of the long-tail boats bringing and taking away visitors.
8. The Famous Catch Beach Club.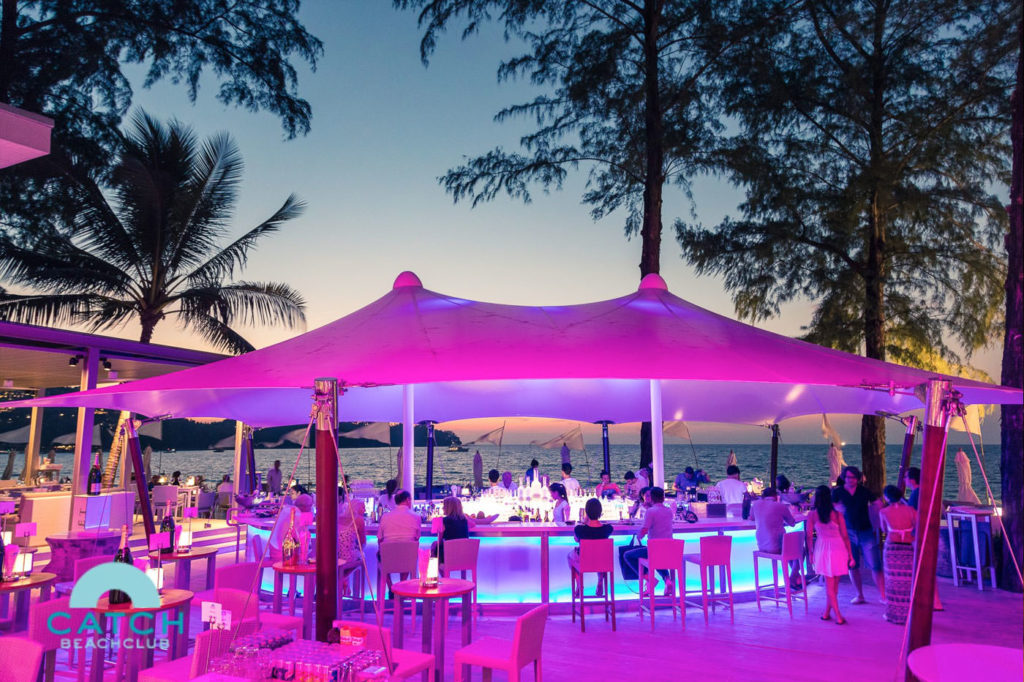 Catch Beach Club.
This Beach Club is a high-quality bar, restaurant and lounge spot right on the beautiful Bangtao Beach. With a superb beachfront location, excellent food and drinks and great music, it is one of the top chill-out spots throughout the day and a popular party venue at night. Belonging to the same brand as Palm Seaside, HQ Beach Lounge and Twinpalms Phuket, quality and class are absolutely assured. Now boasting the unmistakable Catch style, you will find indoor and outdoor dining areas, a large canopy-covered bar, sun loungers, a small splash pool and a selection of poolside salas.
9. Patong Bangla road.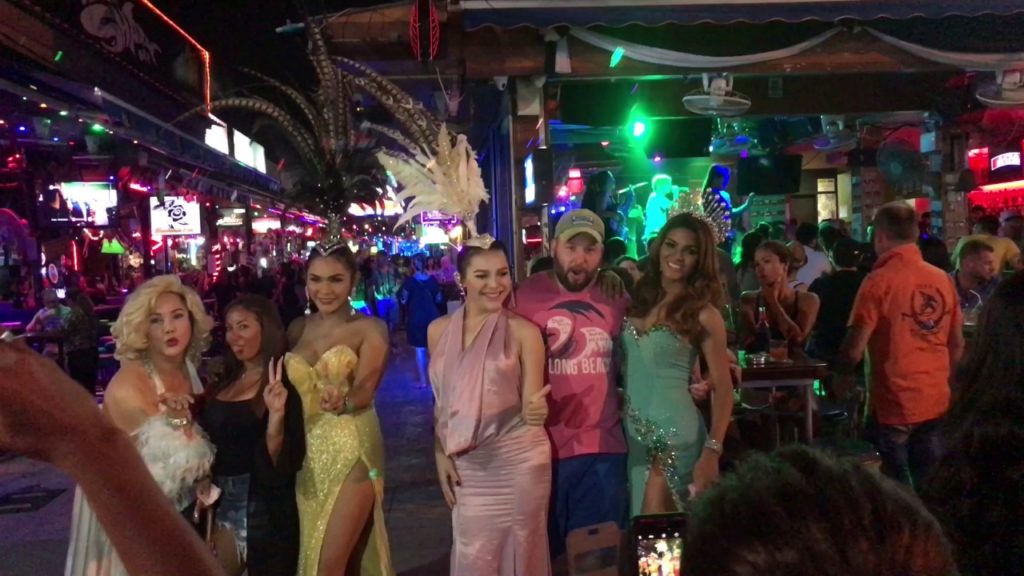 Bangla Road.
Located in the center of Patong, in Phuket is notoriously named for its very energetic and lively nightlife. A must visit if you head to Phuket. Nightlife is at the top of its game. It is literally packed with a ridiculous amount of bars, go-go bars, girly bars, ex-pat bars, where drinks, women and music are the standard. This Corner of Patong is quite simply the sex capital of Phuket. If you are a single guy, then the night will no doubt be very entertaining whatever you choose to do.
10. The Big Buddha monument.
Big Buddha.
A regular stop for the island tours, and possibly the best known Phuket attraction other than the beaches, Big Buddha is exactly what its name suggest, a gigantic statue of Buddha overlooking some panoramic views. The statue is 45m high and 25m wide, it is decorated with Burmese jade marble and it weighs 135 tons.
It is still a functioning Buddhist monastery so take a walk around and maybe contribute to its construction. No matter where you are in Phuket the tall statue presides over every part of the island. Views from the top of the hill are pretty.
You are looking for a Property in Phuket – Pool villa, Hotel or Land for Sale.